Stuart collaborates with Feed My City to provide deliveries for local charity
Feed My City is an emergency food charity based in Manchester, delivering hot meals and dry food parcels to vulnerable people and those in food poverty across the city.
Feed My City is an independently run charity founded in 2019, which since its inception has received praise from politicians, faith groups and charity organisations for the vital support it provided during Covid-19. Feed My City's motto is 'No judgements made, no questions asked' - it provides for people irrespective of their circumstances or reason for needing help. Stuart has partnered with Feed My City since March 2021.
Stuart has covered deliveries for the charity one day each week since the partnership began and has recently expanded its support to cover two days. Over 8000 hot meals have been delivered to people in need across Manchester, along with thousands of dried food parcels.
Delivery for a sustainable world
This partnership is one that sits seamlessly into Stuart's mission - creating Logistics for a Sustainable World. When Stuart mentions sustainability, it extends past green vehicles and carbon free deliveries all the way to supporting local communities. The sustainable pillars Stuart focuses on are:
Climate - working to reduce GHG emissions from the last mile by accelerating the transition to bike and electric mobility
Couriers - aim to provide the best and fairest work opportunities, conditions and experience for couriers
Community - increase impact for the wider community and set high supply chain standards
Clients - foster close client relationships to boost innovation in circular logistics and waste reduction
Company - embed sustainability throughout the organisation, setting global standards
The pillar this particular collaboration targets is the 'community', supporting and feeding local authorities, food banks, social services and the NHS, all made possible via local citizens advice bureau or by self-referral.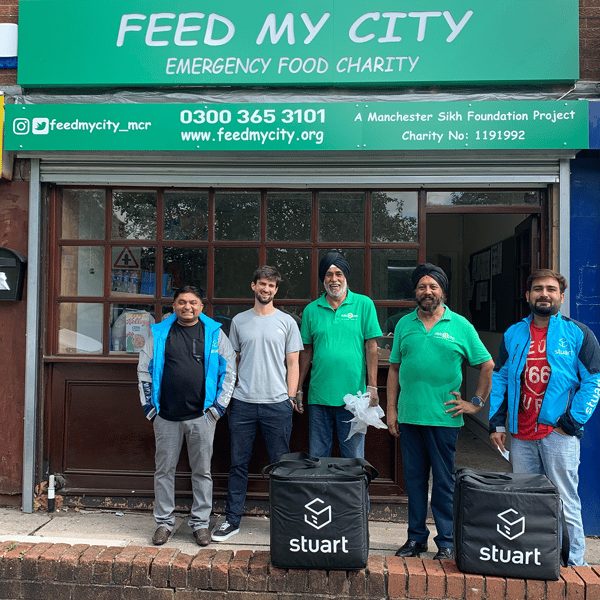 Feed My City, a local emergency food charity
We conducted an interview with Feed My City Founder, Sukhbir Singh, who shared how vital Stuart have been in supporting this special initiative.
How did Feed My City come to life?: "My story started in India where I grew up in the 1970s and 80s. Our normal monthly diet was made up of mostly breads, spices and some other basics. My father was a salesman who would travel on his bicycle around the province selling a variety of products. Instead of money, he would receive goods in kind for his sales - often these would be items of food such as flour or cereal that he would bring home. He would often go away for a month or more so the family would sometimes run out of food and we would have to make do with whatever we could. I didn't feel bad about this, it was normal for me and considered normal in all of the local families in the area. It was only when I moved to Manchester where I had a successful career in the IT sector that I started to realise how lucky we are in the UK and other wealthy countries to be able to freely acquire food. I still get annoyed when I see people throwing food in the bin because I understand how fortunate we are and there are still many people in the world who are hungry or for whom food poverty is a daily reality.
After retiring I realised that I still had an enduring desire to feed and help those most in need. So I traveled back to India and set up an initiative in the city Patiala where we eventually fed meals to over 1000 people a day - it was an incredible experience! I then understood this was my calling and was what I needed to do - but on an even larger scale. As a follower of the Sikh faith, giving is an extremely important part of my life. Sihkism says you should give a tenth of what you have in money or in food to those who need it. Returning to Manchester I spoke with religious leaders including the Dean of Manchester who asked why couldn't I do the same in the UK? 'Isn't there poverty in Manchester' he said? This was an inspiration to me and was how Feed My City was born - 4 years later and we have cooked and delivered hundreds of thousands of meals to people across Manchester."
What were the operational challenges you were facing when starting Feed My City?: "One of the main challenges we faced was finding volunteers to help as we are a volunteer led organisation. We initially had a van to cook and deliver food from, however, when lockdown hit - two significant issues arose: 1) We faced more restrictions due to social distancing 2) We faced a significant increase in demand for our services. Poverty suddenly increased overnight and vulnerable people were unable to leave the house to get food on the table. In parallel, volunteers began to get exhausted from the process of it all.



How did Stuart support Feed My City in overcoming these operational challenges

?: "During lockdown we saw around x5 growth in demand - from delivering 200 meals a day to over 1000 a day. Acquiring food and premises was no problem - we had pallets and pallets of food coming in each day and we acquired premises at a local Synagogue and later a Youth Hostel. However, we had requests from people coming for help all over Manchester but were struggling to find volunteer delivery drivers, this became particularly acute when employers stopped furlough and many of our volunteers returned to work. That's when I received an email from Luke at Stuart to offer support. It came in at just the right time and which was a real life line. Stuart were soon covering all of our deliveries one day a week each and every week. This has been hugely beneficial for us because it has provided us with the time and space to plan whilst taking the pressure of some of our most hard working volunteers. Stuart recently increased support to two days a week - this has allowed us to experiment with a new delivery model, delivering to satellite hubs across the city. This has both increased our overall capacity, covering a larger geographical area. Ultimately this means we're able to feed more people and to cover some of the poorest and most in need people in Manchester."


How has Stuart been throughout this transition?: "The Stuart driver partners have been amazing - they are very diligent and really persevere. They're extremely knowledgeable about the city and our services which is great. The kind of people we end up delivering to can be quite challenging, but they have been brilliant from day one."
Clearly an inspirational story from the Feed My City team, I'm sure you're just as eager to see how this collaboration moves forward in the future.
The future for Stuart & Feed My City
There aren't many charities who are able to provide the service that Feed My City does. Emergency food charities tend to work like food banks, but Feed My City is unusual in the sense that they deliver both hot and cold dried food every day, 7 days a week. In time Feed My City would like to really scale the venture - such as doubling the hot food capacity and triple their total food storage capacity. Currently, there are no plans to expand outside of Manchester, but they would love to support and partner with other charities who are looking to provide a similar service elsewhere.
The close relationship between Stuart and Feed My City will continue, and their ambitions to scale volumes across Manchester will be supported.
45% of retailers & grocers choose ship from store delivery as their first choice
45% of retailers & grocers choose ship from store delivery as their first choice
Discover and leverage Stuart use cases
Stay up to date on delivery trends
Choose the last-mile topics you are most interested in and we will take care of the rest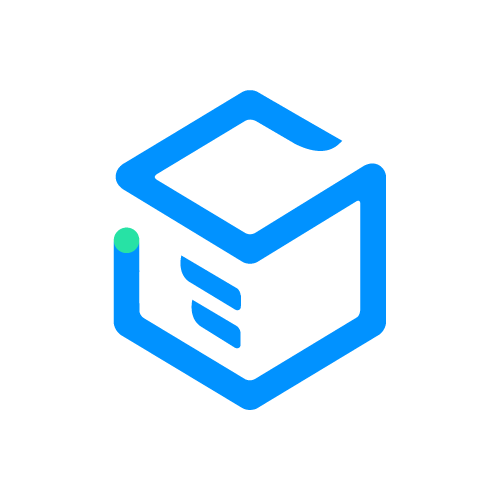 Stuart is Europe's leading last-mile B2B delivery platform. Since 2015, we've been empowering businesses across all industries with fast and reliable on-demand delivery solutions. Our platform instantaneously connects businesses of all sizes to a fleet of high-quality couriers.