Two buzzwords in the logistics sector–convenience and sustainability –are proving to be key decision drivers in an end-customer's e-shopping choice. 69% of e-shoppers stated that knowing the exact one-hour time slot in advance of your delivery would make them more likely to purchase from an online store. As sustainable options also become an essential element of consumer choice, it is crucial for organisations to provide this delivery option at checkout. Our Ship from Hub model is both convenient and sustainable, providing precise 1 hour delivery slots delivered by our 100% electric transport fleet.
What is the Ship from Hub model?
In traditional delivery models, packages go through multiple depots, increasing the packages' travel miles and risk of getting lost or damaged. Stuart's new model allows a quicker and more sustainable delivery process, direct from an urban hub in East London, with 100% green electric vehicles powering the deliveries.
How does it work? The customer places an order on your website, the order is then prepared in the retailer's warehouse or store. Our retail partners then inject parcels into our urban hub, meaning a convenient three-hour delivery slot (e.g. 7-10 p.m.) can then be allocated to the end-customer. Once the transport vehicle leaves the hub, they are notified of the specific one-hour time frame that their order will be delivered by.
Sustainable: driving sustainability through modern logistics
Stuart's Ship from Hub model is sustainable in two different ways. Firstly, it removes the traditional logistics model of multiple depots and vehicles. Traditional carriers typically use a depot, which is located far outside city centres, and therefore adds additional miles to the route of your parcel. Stuart, with its urban hubs, is faster and greener by design.
Secondly, our hub transport fleet is made up of 100% electric, eco friendly vehicles. This concept is both closely aligned to our mission–creating logistics for a sustainable world–and has become increasingly necessary due to the introduction of the Ultra Low Emission Zone in London, making sustainable courier options more and more popular. Stuart's Ship from Hub model is future proof, actively striving to create a better delivery model to contribute to the planet's recovery. We are proud to say that our fleet produces zero carbon dioxide emissions when delivering in the last mile. On a 50 mile delivery round-trip completed by a traditional carrier with 120 drop-offs, the emissions produced during the overall delivery trip would be 21.66kg of CO2.


"Since August 2020, 13,753kgs of carbon dioxide emissions have been saved from entering the atmosphere by using Ship from Hub to power deliveries."


Convenient: later cut-off times and a same-day offer
Imagine this situation: it's 7 a.m. and your customer has just realised they have run out of their favourite foundation. They can't go to their desired shop because they have work in half an hour. In desperation, they search for same-day delivery options and realise that they can get a huge range of products from their preferred cosmetics brand delivered later that day. With their busy and constantly changing schedule, the precise aspect has rescued them from altering plans. They proceed to checkout and voila, the day is saved.
Stuart's Ship from Hub service has saved your customer from inconveniently having to leave the comfort of their home–or from having to change their plans and disrupt their already busy day–making the service unique. They have the reassurance that same-day delivery is still a possibility–even at the last minute.
With 49% of consumers stating that same-day delivery makes them more likely to shop online, the importance to provide this as a delivery option is clear!
Responsive: real-time tracking for both business and customer
The end-customer is notified at multiple points where their parcel is via text message. Mobile is the new email, as most UK customers (57%) prefer to receive tracking notifications by SMS.
Below is an example of a scheduled delivery real-time tracking SMS notification flow.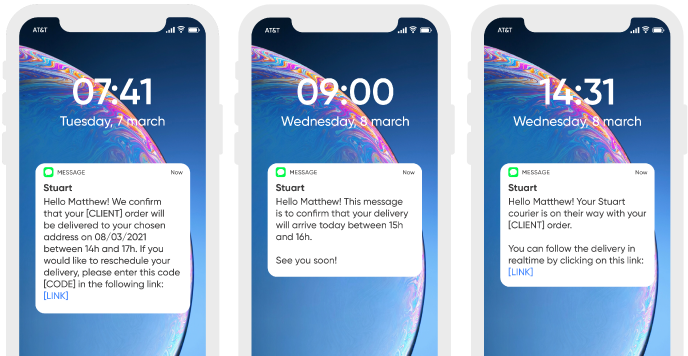 The first message provides the end-customers with a three-hour delivery window which can be rescheduled to fit into any of our three time slots: morning, afternoon or evening. The second message is a simple confirmation stating the one-hour delivery window. The third and final message notifies the recipient that their courier is on its way, along with a link that allows for real-time tracking. All SMS can be customised by the retailer, making the customer journey truly seamless!
Having this sort of contact ensures more successful deliveries. However, if a delivery is unsuccessful, another SMS is sent to the end-consumer to rearrange delivery for the next day as the parcel is sent back to the hub.
On the business side, you have access to a parcel delivery tracking interface, where you can track your end-customers parcels. The whole process is completed in a contact-free way during these difficult times.
Efficient: easy-to-implement tech solution
There are three different ways you can implement our tech solution. The first requires no tech integration. A simple CSV file of orders is transferred to Stuart, orders are validated and they are subsequently uploaded to our system and routed. The second option is our key accounts' favourite, which includes an application programming interface (API) integration, allowing full electronic data interchange, real-time tracking and dedicated resources. Our final tech implementation is via one of our delivery partners, Metapack, which can mean an easy and fast option for those already using the platform.
The best-in-class customer experience
Last but not least, we pride ourselves on our exceptional customer experience. From a same-day and scheduled delivery offering to constant communication, live tracking and a choice of precise delivery slots, the end-customer experiences a seamless journey.
It is also apparent that our business clients and partners experience the same level of service. This is what our partners, Metapack, say about the Ship from Hub experience:

''In today's competitive retail climate, with more people shopping online than ever before, retailers need to ensure they're able to satisfy consumer desire for fast and convenient delivery options. Metapack research highlights that in the UK and France, around 50% of consumers have bought goods from one retailer over another, because they provided more delivery options. Working together with Stuart, we're able to help retailers service the changing needs of consumers and provide greater delivery experiences.''
Our Ship from Hub model is an innovative opportunity to take your end-customer's experience to the next level. As the need for e-commerce becomes more of a necessity and the shift in consumer behaviour to online shopping and higher delivery expectations is upon us, we are required to make a shift to cater to these needs. That shift is to a more varied, reliable, sustainable delivery option. With clients such as FLOWERBX operating from Stuart's hub, the shift is being felt.

Why not join the movement? Request to be contacted by our experienced team and make convenience, speed and sustainability a competitive advantage.
45% of retailers & grocers choose ship from store delivery as their first choice
Discover and leverage Stuart use cases
Stay up to date on delivery trends
Choose the last-mile topics you are most interested in and we will take care of the rest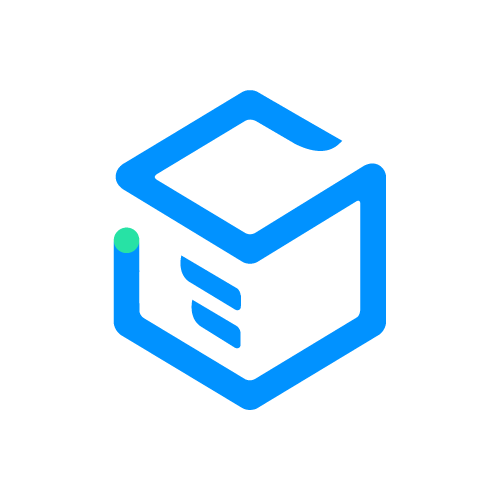 Stuart is Europe's leading last-mile B2B delivery platform. Since 2015, we've been empowering businesses across all industries with fast and reliable on-demand delivery solutions. Our platform instantaneously connects businesses of all sizes to a fleet of high-quality couriers.